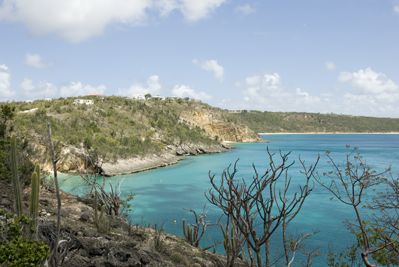 Anguilla is one of the Lesser Antilles in the eastern Caribbean. It consists of the main island of Anguilla, together with a number of uninhabited smaller islands and cays. Anguilla itself is a flat coral limestone island, the highest point reaching only 65 m. The island has a dry, tropical climate which is moderated by trade winds. Rainfall averages 90 cm per year with September and October being the wettest months.
The vegetation of Anguilla is largely determined by the low rainfall and substrate which comprises limestone rock pavement and thin gravelly soils. The most luxuriant vegetation is dry thicket with some emergent trees reaching a maximum of 10 m in more sheltered locations. In drier situations and where browsing by goats is extensive, dry scrub predominates. In protected places, most notably in the western end of the island, there are small stands of dry forest. There are approximately 320 plant species in Anguilla, however, 200 of these are non-native. One endemic species occurs on the island, Rondeletia anguillensis, a shrub in the coffee family (Rubiaceae).
Much of Anguilla's native vegetation is highly degraded due to unsustainable tourism and housing development which, is perhaps the greatest threat to the island's indigenous plant species and their habitats. Large areas of climax vegetation are becoming increasingly modified, fragmented and continue to deteriorate. Overgrazing by feral livestock (goats) and competition from alien invasive weed species compound the issue further.
© Copyright Board of Trustees of the Royal Botanic Gardens, Kew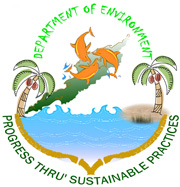 Kew's UK Overseas Territories team collaborates with the Anguilla Government, Department of Environment on plant conservation activities.
---
Please use the links below to see further details on conservation activities in the UK Overseas Territories.
British Indian Ocean Territory
South Georgia and the South Sandwich Islands
Sovereign Base Areas on Cyprus
---
Homepage of the UKOTs Online Herbarium
---
Site published by
UK Overseas Territories Team, UK and Islands Programme, Conservation Science Department, Royal Botanic Gardens Kew
Please cite as
UKOTs Team (
Current Year
). UKOTs Online Herbarium - Anguilla. Facilitated by the Royal Botanic Gardens, Kew. Hamilton, M.A. and Barrios, S. (eds.). Published on the internet at http://brahmsonline.kew.org/anguilla (
Date Accessed
).
For further information
Please contact Kew's
UKOTs Team