The Sovereign Base Areas of Akrotiri and Dhekelia Cyprus comprise parts of the island of Cyprus which remained British territory when the Republic of Cyprus was created in 1960.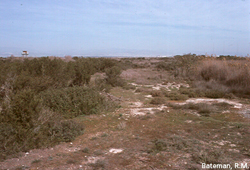 Akrotiri is located in the south of the island, near the city of Limassol (or Lemesos), while Dhekelia is situated in the southeast, near Larnaca. Both of these areas include military bases, farmland and some residential land. Akrotiri and Dhekelia together cover an area of 254 km², an equivalent of 3% of the entire island.
As part of the Mediterranean biodiversity hotspot, Cyprus holds a very rich fauna and flora. The salt lake at Akrotiri is the most important wetland on Cyprus and provides a winter home to greater flamingos. Colonies of griffon vultures and falcons and various reptiles and amphibians live within the bases. The bases also provide habitat for many migrant songbirds. Loggerhead and green turtles breed on the beaches of the bases.
In terms of botanical importance, the Sovereign Base Areas share with Cyprus several Mediterranean habitats, such as coastal communities, saltmarshes and Mediterranean garrigue, an aromatic thorny shrubby vegetation type. About 1800 plant species are known to grow on the island of Cyprus. Several botanic surveys indicate that the Sovereign Base Areas are home to at least 10% of Cypriot plant species.
© Copyright Board of Trustees of the Royal Botanic Gardens, Kew
---
Target 1
Species checklist not complete
Target 2
Red List evaluation in progress
Target 3
No current activity
Target 4
Co-ordinated internationally
Target 5
Important Plant Areas not yet identified
Target 6
Farming land very limited
Target 7
Akrotiri wetland complex declared a Ramsar Site since 1992
Target 8
No current activity
Target 9
No activity
Target 10
Key invasive species still need identification
Target 11
No plant species in international trade
Target 12
No plant-based products produced presently
Target 13
Lacking necessary data to report on target
Target 14
Akrotiri Environment Education and Information Centre established in 2004; environmental education programmes established to local schools
Target 15
Lacking necessary data to report on target
Target 16
Parternship between the Sovereign Bases Areas with the relevant Cypriot Republic departments to ensure environment protection of the Ramsar Site
---
---
Please use the links below to see further details on conservation activities in the UK Overseas Territories
British Indian Ocean Territory
South Georgia and the South Sandwich Islands
---
Homepage of the UKOTs Online Herbarium
---
Site published by
UK Overseas Territories Science Team, Royal Botanic Gardens Kew
Please cite as
UKOTs Online Herbarium (2011). Published on the internet at http://herbaria.plants.ox.ac.uk/bol/UKOT (date accessed).
For further information
Please contact Kew
UKOTs Team
---