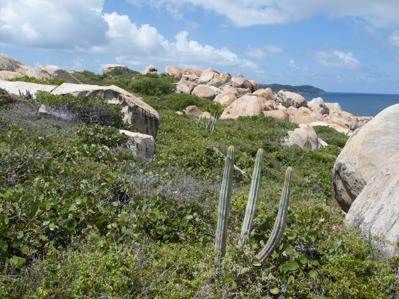 The British Virgin Islands (BVI) are situated in the northern Caribbean some 96 km east of Puerto Rico. The BVI consist of the main islands of Tortola, Virgin Gorda, Anegada and Jost Van Dyke, along with over fifty other smaller islands and cays. Tortola and Virgin Gorda, and most of the other islands and cays, are volcanic in origin, comprising steep-sided hills arising from the sea. Anegada, in contrast, is a flat coral limestone island, no higher than 8 m above sea level. The British Virgin Islands enjoy a tropical climate, moderated by trade winds. Rainfall averages around 1150 mm (45 in) per year, with higher amounts in the hills and lower land typically drier.
The BVI, the nearby US Virgin Islands (USVI) and the islands of the Commonwealth of Puerto Rico form the Puerto Rican Bank floristic province. Of the 2,221 native plants recorded from the Puerto Rican Bank, 305 are endemic and four are currently thought to occur exclusively in the BVI. The vegetation is dominated by dry forest at lower altitudes with some stretches of coast still protected by mangrove forests. Upland evergreen forests are found at higher altitudes on Tortola and Virgin Gorda, where there is enough rainfall. Anegada's dunes and limestone areas are covered with a mix of dry scrub, usually dominated by cacti and dry thicket vegetation.
Vegetation under threat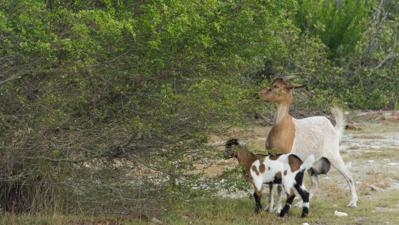 There are very few patches of primary forest left in the British Virgin Islands due to the clearing of land during the 18th century, primarily for agricultural uses. Most of the existing vegetation is secondary seasonal dry forest, which has, to some extent recovered since the plantations ceased. Modern threats to native plants are mainly related to the pressure from development, associated with tourism, infrastructure and housing and the presence of many feral animals (goats, cows, donkeys). These free-roaming animals feed on the native vegetation and are particularly damaging to young plants. The animals also trample the vegetation and modify soil stability and micro-climate conditions. In addition to this, widespread importation of goods without robust biosecurity frequently results in the introduction of non-native plants and pests which can spread out of control. Some species have already become invasive, modifying native ecosystems and competing with native species for available resources. Finally, it is also important to consider the threat posed by climate change. Although the region naturally experiences seasonal tropical storms, those of higher intensity, such as Hurricanes Irma and Maria that struck in 2017, are expected to be more common as the climate changes. Sea level rise, linked to climate change, is predicted to affect many coastal areas on most of the islands and could impact the already fragmented habitats of coastal plant species.
Working to conserve the BVI's flora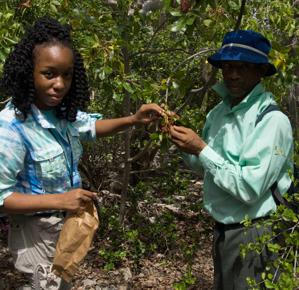 Kew's UKOTs Team, in partnership with the National Parks Trust of the Virgin Islands (NPTVI) as well as other local and international organisations, have been involved in plant conservation activities in the BVI since 1998. The collaborative work between Kew and NPTVI aims to assess the extinction risk of native plant species and to mitigate against the threats that affect the BVI's vegetation. Following detailed desk-based data gathering and digitisation of existing herbarium collections, species lists are compiled to guide our field collecting and assist in the identification of areas for survey. Field surveys are undertaken to look for these species by targeting suitable habitat. We document native and non-native plant species and, where possible, undertake control of those species that have become invasive. Data for all new and confirmed occurrences are digitally recorded and new collections (herbarium vouchers and DNA samples) are made where possible. If a native species is found in fruit, seeds are collected for long term storage at Kew's Millennium Seed Bank and for cultivation at Kew and at the J.R. O'Neal Botanic Garden in Road Town, Tortola. Besides the obvious conservation benefits of securing species in ex situ conservation collections, there are many other benefits including raising public awareness and access to material for research. Areas with high concentrations of threatened species and threatenead habitats have been identified in the BVI as part of a Tropical Important Plant Areas (TIPAs) project. Our collaborations in BVI are ensuring that the native flora is well documented and providing the necessary information to make informed conservation decisions.
© Copyright Board of Trustees of the Royal Botanic Gardens, Kew
Kew's UK Overseas Territories team collaborates with the National Parks Trust of the Virgin Islands on plant conservation activities.
Please use the links below to see further details on conservation activities in the UK Overseas Territories.
British Indian Ocean Territory
South Georgia and the South Sandwich Islands
Sovereign Base Areas on Cyprus
---
Homepage of the UKOTs Online Herbarium
---
Site published by
UK Overseas Territories Team, UK and Islands Programme, Conservation Science Department, Royal Botanic Gardens Kew
Please cite as
UKOTs Team (
Current Year
). UKOTs Online Herbarium - British Virgin Islands. Facilitated by the Royal Botanic Gardens, Kew. Hamilton, M.A. and Barrios, S. (eds.). Published on the internet at http://brahmsonline.kew.org/BVI (
Date Accessed
).
For further information
Please contact Kew's
UKOTs Team