The British Virgin Islands (BVI) are situated in the eastern Caribbean some 96 km east of Puerto Rico. BVI consist of the main islands of Tortola, Virgin Gorda, Anegada and Jost Van Dyke, along with over fifty other smaller islands and cays.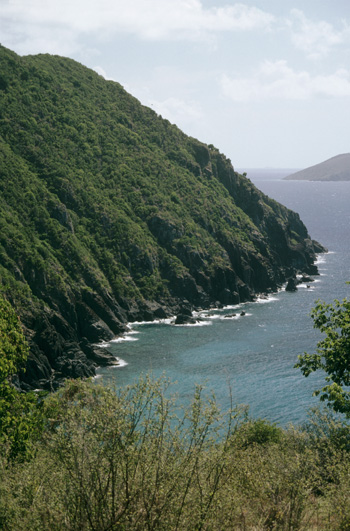 The two largest islands, Tortola and Virgin Gorda, are volcanic in origin, comprising steep-sided hills arising from the sea. Anegada, in contrast, is a flat coral limestone island, no higher than 8 m above sea level. The British Virgin Islands enjoy a tropical climate, moderated by trade winds. Rainfall averages around 1150mm (45 in) per year, with higher amounts in the hills and lower amounts on the coast.
Botanically, the BVI are part of the Puerto Rican Bank Floristic Province which also includes the US Virgin Islands and Puerto Rico.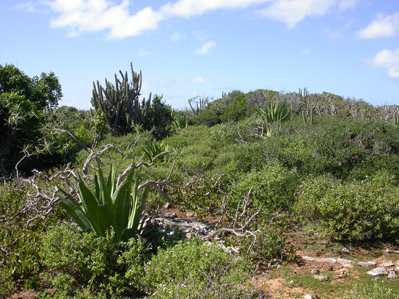 In the past, much of the islands' vegetation was cleared to make way for sugar cane farming. Dry forest, once the predominant vegetation on islands of the Puerto Rican Bank, still occurs in patches on the volcanic islands of BVI. Mesic forest species grow at higher altitudes on Tortola, where there is enough rainfall. Some stretches of coast are still protected with mangrove swamp. Anegada's dunes and limestone areas are covered with a mix of dry scrub, usually dominated by cacti and dry thicket vegetation.
Based on the Smithsonian Institute's Catalogue of Seed Plants of The West Indies, there are roughly 940 species (including non-native) recorded from Virgin Gorda, Tortola, Jost Van Dyke and Anegada. Anegada is the most botanically studied island in BVI having recently had a species list and candidate Red-list produced as part of a Biodiversity Action Plan in 2006. 332 different types of plants have been recorded on Anegada. Of these 288 (87%) are considered native to Anegada and 44 (13%) are non-native. A total of 11 (4%) of Anegada's plants are Puerto Rican Bank endemics, the important ones being Cordia rupicola (Anegada & P. Rico only), Leptocereus quadricostatus (Anegada & P. Rico only) and Malpighia woodburyana (Puerto Rican Bank only). There are three Anegada endemics: Acacia anegadensis (poke-me-boy), Metastelma anegadense (wire wist) and Senna polyphylla var. neglecta. BVI are also home to ten Caribbean endemic genera; Dendropemon (2spp.), Leptocereus (1sp.), Margaritopsis (1sp.), Pachyanthus (1sp.), Pictetia (1sp.), Poitea (1sp.), Psychilis (2spp.), Scolosanthus (1sp.), Tetramicra (3spp.) and Tolumnia (2spp.).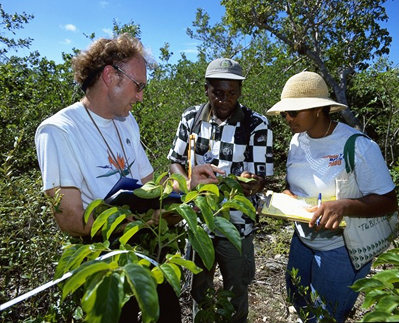 In the 2006 Anegada Biodiversity Action Plan (BAP), 'future loss of habitat and invasive species' are considered the major threats to BVI's indigenous flora. As hotel and resort developments increase in number, BVI plant species and their habitats are disappearing. Of the 44 introduced species, the following three species are of highest concern: Scaevola taccada (a beach shrub originally from the Indo-Pacific and introduced as a landscaping plant), Casuarina equisetifolia (originally from Australia and introduced as a shade tree) and Cryptostegia madagascariensis (originally from Madagascar and introduced as an ornamental).
Kew's conservation staff have been involved in two major projects in the BVI, both funded by the UK Government's Darwin Initiative and both in partnership with the BVI National Parks Trust (BVINPT) as well as other local and international organisations. The first project documented the plants and animals of Gorda Peak National Park on Virgin Gorda and of a proposed protected wetland area on Anegada. The second project assessed the coastal biodiversity of Anegada. Both projects have helped to develop specialist skills in biodiversity monitoring and conservation management for staff from partner organisations within BVI.
BVI as a whole are under-studied, especially the uninhabited islands. Preliminary botanical studies have been undertaken in Gorda Peak National Park (GPNP) where 9 known Red List taxa were assessed to ascertain the level of threat of extinction and a full species list and candidate Red-list have been compiled as part of a BAP conducted in 2006.
© Copyright Board of Trustees of the Royal Botanic Gardens, Kew

Kew's UK Overseas Territories team collaborates with the
BVI National Parks Trust
on plant conservation activities.
---
---
---
Target 1
Species checklist complete for some individual islands and protected areas; full BVI checklist in progress
Target 2
8 BVI species listed as globally threatened; Anegada red list complete; full BVI red list in progress
Target 3
Horticulture protocol complete for BVI endemic
Acacia anegadensis
Target 4
Co-ordinated internationally
Target 5
Several candidate Important Plant Areas (IPA) identified
Target 6
Production land well defined but not always respected
Target 7
Comprehensive Parks and Protected Areas Systems Plan published and approved by BVI Government in 2007
Target 8
Acacia anegadensis
in long-term storage in the Millennium Seed Bank and in cultivation at the J.R. O'Neal Botanic Garden on Tortola and and RBG Kew.
Target 9
No current activity
Target 10
Key invasive species identified for some islands
Target 11
No plant species in international trade
Target 12
No plant-based products produced
Target 13
Indigenous usage of plants and plant parts on the island for souvenirs and other objects
Target 14
Production of several awareness raising materials including a series of conservation posters (
Acacia anegadensis
,
Metastelma anegadense
and
Scaevola taccada
), highlighting key endemic and invasive species
Target 15
Completion of six training workshops in botanical identification; inventory, monitoring and data analysis techniques, recovery planning and botanic garden management. Attendees were drawn from all BVI Departments involved at any level with biodiversity. Provision of training for and starting a seed collecting programme.
Target 16
BVI National Parks Trust developed strong international partnerships with RBG Kew, RSPB and The Marine Turtle Research Group
---
Please use the links below to see further details on conservation activities in the UK Overseas Territories
British Indian Ocean Territory
South Georgia and the South Sandwich Islands
Sovereign Base Areas on Cyprus
---
Homepage of the UKOTs Online Herbarium
---
Site published by
UK Overseas Territories Science Team, Royal Botanic Gardens Kew
Please cite as
UKOTs Online Herbarium (2011). Published on the internet at http://herbaria.plants.ox.ac.uk/bol/UKOT (date accessed).
For further information
Please contact Kew
UKOTs Team
---