Located roughly 145 km north of Haiti in the Caribbean, the Turks and Caicos Islands (TCI) are two island groups that lie at the most south-easterly extent of the Bahamas Archipelago in the North Atlantic Ocean.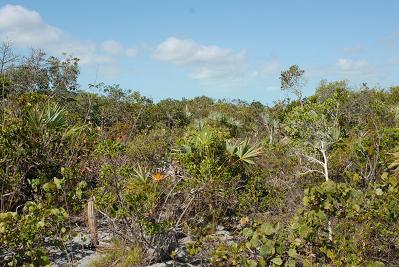 The land surface is composed of sediments derived from coral and other calcareous organisms and consists of a low topography with the highest points formed by ridges of limestone usually running the greatest length of an island. The Blue Hills on Providenciales form TCI's highest point at 49 m. The archipelago has a dry tropical climate, where rainfall averages about 736 mm (29 inches) per year making TCI the driest islands in the Bahamas Archipelago.
The vegetation of the Caicos Islands varies considerably from one part of the islands to another. The wetland complex of East, Middle and North Caicos dominates the low-lying areas of the Caicos Bank, where the land is periodically inundated by the tide. This area, comprising tidal flats, salt marsh and in sheltered areas, mangrove communities, occupy half of the land area of TCI. The wetlands are recognized as being internationally important as they mostly remain in their natural condition. Above tide inundation along the coast, plant communities have adapted to wind and salt spray and are influenced by the substrates on which they grow. Dune communities and coastal coppice are adapted to coral sand dune formations and differ to those communities growing in substrates which are based on fragmented limestone which tend to form open and stunted coastal-scrub communities.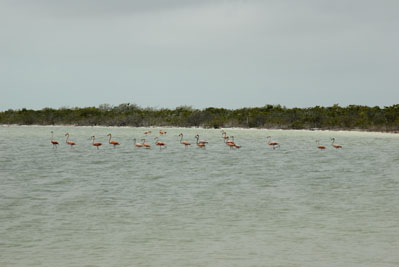 Further inland, where the soil is more fertile, the climax vegetation consists of limestone thicket (Tropical Dry Forest) where the vegetation can grow to 5m in height. The most distinctive type of vegetation in the Caicos Islands is the pineyards, where stands of Pinus caribaea var. bahamensis dominate. This habitat is not only locally important, it is internationally significant as it is unique to the Bahamas Archipelago. In the northern Bahamas it forms large stands in Grand Bahama, Abaco, Andros and New Providence, and then skips to the Caicos Islands where it forms extensive pinyards on North and Middle Caicos, and a small pineyard on Pine Cay. On some islands, for example Big Ambergris Cay, the vegetation is influenced by the resident iguanas which are the only native herbivore. As a result, the vegetation-mix tends to consist of those plant communities able to withstand herbivory for example, spiny scrub and grassland dominated by the charismatic Turks head cactus, Melocactus intortus.
Over 550 plant species are native to TCI and nine are endemic to the islands: Limonium bahamense (Plumbaginaceae), a succulent plant known as Turks and Caicos Island heather, thrives in the saline conditions of the salt flats and has been designated the islands' national flower. A vine, Cynanchum stipitatum (Apocynaceae); two herbs, Stenandrium carolinae (Acanthaceae) and Pepper-Grass, Lepidium filicaule (Brassicaceae); three sub-shrubs, Argythamnia argentea (Euphorbiaceae), Spermacoce brittonii (Rubiaceae) and Spermacoce capillaris (Rubiaceae); a cactus, Turk's Island Prickly Pear, Opuntia lucayana (Cactaceae); and finally, a Caicos Islands endemic orchid, Encyclia caicensis (Orchidaceae). TCI is also home to four Caribbean endemic genera; Picrodendron (1sp.), Dendropemon (2spp.), Phialanthus (1sp.) and Hypelate (1sp.). In addition, 50 species occurring in TCI are endemic to the Bahamas Archipelago, and many of which are restricted to five or fewer island groups. For example, the small tree, Bursera frenningae (Burseraceae) is restricted to five island groups in the Bahamas including TCI, where it has been recorded on South Caicos, Ambergris Cays, Bush and Seal Cays.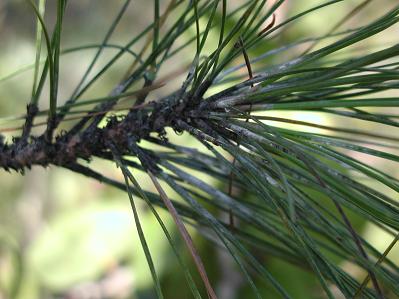 The most threatened habitat on TCI is the pineyard habitat. Not only is it unique to the Bahamas but its future in TCI is seriously threatened by an alien, invasive scale insect, accidently introduced from the US mainland. In USA, Pine Tortoise Scale populations are kept in check by native predators and by the winter months which necessitate a dormancy period in the organisms life-cycle. However, the absence of native predators and extreme cold, Pine Tortoise Scale perpetuates its 'feeding' stages unhindered by predation and without the need to hibernate. Thus, the pine trees have no time to recover and instead the scale insects inflict devastating damage to the native pines by continually sucking valuable moisture and sugar laden sap from the leaves. To make matters worse, the scale insects deposit a sugary 'honey dew' onto the needles which blackens through secondary infestation by 'sooty mould' which subsequently impedes the pines' ability to photosynthesize and transpire effectively.
The increasing number of tourist resorts and tourist activities pose the greatest threat to the islands' biodiversity. This is especially the case along coastal areas where the miles of pristine coastline are being converted to tourist and residential developments. In one extreme example a whole island is undergoing unprecedented development in the form of numerous luxury homes. This is having major negative impacts on a number of important, geographically restricted species. Alien invasive plant species are also a concern. For example, the Australian pine tree Casuarina equisetifolia, introduced to stabilize sandy soils, is a serious invasive where it smothers natural vegetation and actually destabilizes sandy soils in hurricanes.
Red Listing
A "model" red-listing exercise took place in the Turks and Caicos Islands.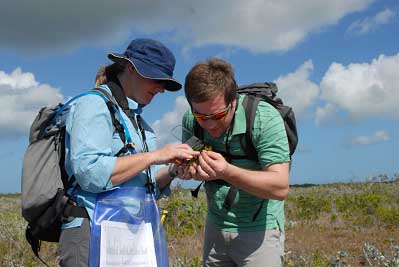 In January 2008 a candidate red-list of some 40 species was produced which allowed for dedicated ground-truthing to take place in key locations within TCI. In addition to the overall range and distribution of species, other important factors were included in the preliminary assessment. For example those species restricted to Pineyards or those outside of the protected areas or those areas near locations ear-marked for development. The following data were recorded for individual target-species: population size per assessment point, location, type of habitat, habitat quality, and threats. In addition, these data were geo-referenced using the latest mobile technology for recording field data using GIS software. This detailed information will build a "picture" for each target species and will allow for a preliminary assessment of extent of occurrence, area of occupancy, threat status and population health to be carried out in accordance with IUCN red-listing criteria.
© Copyright Board of Trustees of the Royal Botanic Gardens, Kew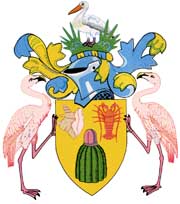 Kew's UK Overseas Territories team collaborates with the TCI Government,
Department of Environment and Coastal Resources
on plant conservation activities.
---
---
---
Target 1
Species checklist complete
Target 2
Candidate redlist near completion, further assessments in progress
Target 3
Horticulture protocols underway for 5 threatened species, including
Limonium bahamense
and
Bursera frenningae
Target 4
Co-ordinated internationally
Target 5
Candidate Important Plant Areas identified
Target 6
No strict production land
Target 7
Some populations of threatened species protected in nature reserves managed by the Turks and Caicos National Trust (TCNT)
Target 8
30 species in long-term storage in RBG Kew's Millennium Seed Bank including
Limonium bahamense
,
Buxus bahamensis
and
Eupatorium lucayanum
which are also in cultivation at RBG Kew; Recalcitrant seeds of
Psuedophoenix sargentii
wild collected, germinated at RBG Kew and seedlings repatriated; Seedlings of
Pinus caribaea
var.
bahamensis
, free of Pine Tortoise Scale, in cultivation at the
DECR
government farm on North Caicos
Target 9
No current activity
Target 10
Checklist of non-native plant species near completion; highly invasive species highlighted; Invasive Pine Tortoise Scale identified as major threat to
Pinus caribaea
var.
bahamensis
and pineyard habitats, management plan in preparation
Target 11
No plant species in international trade
Target 12
No plant species in international trade
Target 13
No plant-based products produced
Target 14
Awareness raising targeting conservation issues includes: poster and article on invasive Pine Tortoise Scale threat; regular talks in schools by TCNT staff which has lead to the opening of Clement Howell High School native plant nursery
Target 15
In-territory workshops in herbarium specimen, DNA and seed collecting techniques undertaken within project; TCNT Conservation Officer completed Herbarium techniques course at RBG Kew; herbarium established at TCNT Environment Centre on Middle Caicos
Target 16
Strong international partnerships with RBG Kew, RSPB, UK Overseas Territories Conservation Forum and The Marine Turtle Research Group
---
Please use the links below to see further details on conservation activities in the UK Overseas Territories
British Indian Ocean Territory
South Georgia and the South Sandwich Islands
Sovereign Base Areas on Cyprus
---
Homepage of the UKOTs Online Herbarium
---
Site published by
UK Overseas Territories Science Team, Royal Botanic Gardens Kew
Please cite as
UKOTs Online Herbarium (2011). Published on the internet at http://herbaria.plants.ox.ac.uk/bol/UKOT (date accessed).
For further information
Please contact Kew
UKOTs Team
---