One of the most remote of the UK Overseas Territories (UKOTs), South Georgia is a beautiful and rugged island lying 1600 km north of the Antarctic in the South Atlantic Ocean.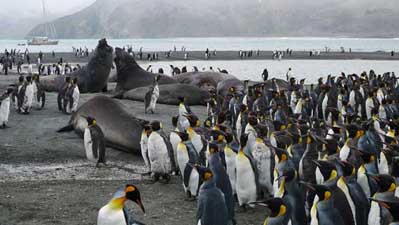 With mountain ranges reaching nearly 3000 m, most of its 3755 km² are covered in permanent snow and glaciers, but at low altitude, within the shelter of its numerous bays, there is a sparse covering of herbaceous vegetation. South Georgia is known for its spectacular wildlife and as the final resting place of the explorer Sir Ernest Shackleton. It is home to over 50 million seabirds, including globally important populations of wandering albatross and macaroni penguins. During the summer months, the beaches and tussac mounds are overrun by 4.5 million fur seals and 0.5 million elephant seals. The Government of South Georgia and South Sandwich Islands (SGSSI) manages the island as a pristine wilderness environment with strict bio-security protocols and monitoring of visitors. The Royal Botanic Gardens, Kew is working with the British Antarctic Survey (BAS) and the Royal Society for the Protection of Birds (RSPB) to help the Government protect the native flora and fauna.
Plants of South Georgia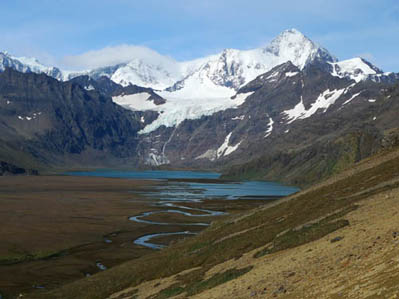 South Georgia's flora consists of 25 native species of vascular plants, co-existing with as many introduced species. There are also about 125 species of moss, 85 liverworts and 200 lichens. Woody species are unable to withstand the island's severe weather conditions. The native vegetation resembles that of parts of the Falkland Islands, Tierra del Fuego and southern Patagonia. It is dominated by low herbaceous plants, predominantly in different grassland communities and in mire and bog, mossbank and fellfield. Tussac (Parodiochloa flabellata) grasslands are of particular importance as a habitat for native wildlife and introduced species, including reindeer.
Surveying invasive species
In January 2009, a team from Kew spent 28 days on South Georgia surveying the extent of introduced plant species. The work was undertaken as part of the RSPB's South Atlantic Invasive Species project, aimed at reducing the impact of invasive species in the South Atlantic UKOTs, and was funded by the European Commission through EDF-9. The team was joined by two entomologists from Buglife undertaking a similar survey of invasive insects. The survey team were based offshore on the sailing yacht Seal, which was designed for supporting expeditions in high latitudes. Part of the success of the trip was down to the skill of the Seal's crew, who navigated safely from the Falkland Islands and around the exposed coastline of South Georgia, avoiding icebergs and the severest weather, to ensure that the team covered as much of the island as possible.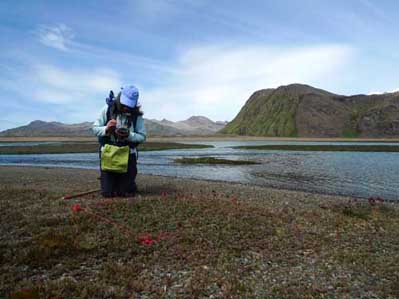 The team visited 16 sites and enumerated over 600 random quadrats and transects. They surveyed 24 introduced species, which will be combined with BAS data from the 1970s to map the introduced flora and identify changes. Many of the alien species were introduced by whalers in cattle fodder and are familiar as common weeds in the northern hemisphere. Mouse-eared chickweed (Cerastium fontanum) and dandelion (Taraxacum officinale) are now naturalised and are widespread across the island. Other introduced species have persisted without spreading. An example is the curled dock (Rumex crispus), which was documented from one site in Grytviken over 30 years ago and still remains in stasis with no evidence of spreading. Other species had been reported in the past, but were found to have disappeared, apparently unable to cope with the harsh South Georgian winters and short summers. Fur seals have had a significant impact eroding vegetation around the whaling stations and maybe a factor suppressing populations of some introduced plant species. Fur seals were killed for their oil and populations crashed to almost zero. Since the whaling stations were abandoned in the 1960s, the fur seal population has recovered and exploded to over 4.5 million individuals. With new information from the survey, SAISP staff are already helping the Government of SGSSI to eradicate wavy bittercress (Cardamine flexuosa) from the Grytviken area. It is hoped that this work will extend to some of the other introduced plant species that may be able to spread and become naturalised with global warming and the inevitable arrival of non-native insect pollinators.
Specimens and seeds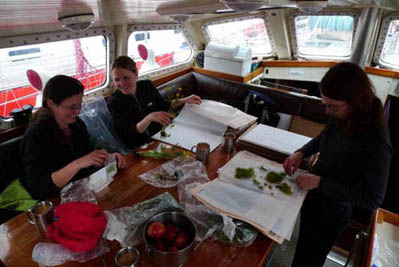 In addition to the field data on invasives, the team returned with over 130 herbarium specimens for the herbaria of RBG Kew and BAS. They found one species new to South Georgia, narrow oat-grass (Trisetum spicatum).
The team also collected the seeds of 14 native species for ex-situ conservation at the RBG Kew's Millennium Seed Bank. This was achieved with the help of environmentalists and writers Thies and Kicki Matzen, who are based on the famous yacht Wanderer III. They are remaining around South Georgia for a year and aim to collect seeds from the remaining flowering plant species as the fruits mature.
South Georgia specimens on the UKOTs Online Herbarium
The British Antarctic Survey and the South Georgia Heritage Trust have provided funds for funded the digitization of all the BAS Herbarium specimens for South Georgia and Kew's historical specimens. These images and specimen data will be databased to form part of the UKOTs Online Herbarium, alongside digitised versions of the specimens collected during the most recent fieldwork.
© Copyright Board of Trustees of the Royal Botanic Gardens, Kew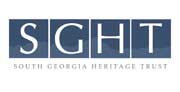 The 2009 survey of invasive plants on South Georgia was undertaken as part of the South Atlantic Invasive Species Project (SAISP), co-ordinated by the Royal Society for the Protection of Birds (RSPB) and funded by the European Commission through EDF-9.
Herbarium specimens from South Georgia are being digitized to form part of the UKOTs Online Herbarium, which is an on-going project funded by the Overseas Territories Environment Programme (OTEP) and additional support from the South Georgia Heritage Trust (SGHT). The British Antarctic Survey (BAS) herbarium specimens are also being digitised to form part of the UKOTs Online Herbarium, with support from SGHT and BAS.
---
---
---
Target 1
Species checklist for South Georgia complete
Target 2
Red list evaluation in progress
Target 3
Horticulture protocols being developed for several native species in Kew's Alpine Nursery
Target 4
Co-ordinated internationally
Target 5
Plant distribution data available to allow investigation of potential Important Plant Areas
Target 6
No production land
Target 7
Awaiting completion of Red List
Target 8
Seeds of 14 of 25 native species in long-term storage in Kew's Millennium Seed Bank; seed collection continuing with aim to bank entire vascular flora. Several native species in cultivation at Kew
Target 9
No crop plants
Target 10
Checklist of invasive plant species for South Georgia complete; control of invasive wavy bittercress on-going; strict biosecurity measures enforced by South Georgia Government; draft invasive species strategy for South Atlantic UKOTs under review
Target 11
No plant species in international trade
Target 12
No plant-based products produced
Target 13
No indigenous use of plants
Target 14
Interpretive signage at key tourist nature sites; awareness raising materials produced for cruise ship visitors
Target 15
Seed collecting training provided; Herbarium maintained at BAS and RBG Kew; Environment Charter signed
Target 16
EU-funded South Atlantic Invasives Species Project providing a regional network for conservation initiatives and invasive species control
---
Please use the links below to see further details on conservation activities in the UK Overseas Territories
British Indian Ocean Territory
Sovereign Base Areas on Cyprus
---
Homepage of the UKOTs Online Herbarium
---
Site published by
UK Overseas Territories Science Team, Royal Botanic Gardens Kew
Please cite as
UKOTs Online Herbarium (2011). Published on the internet at http://herbaria.plants.ox.ac.uk/bol/UKOT (date accessed).
For further information
Please contact Kew
UKOTs Team
---