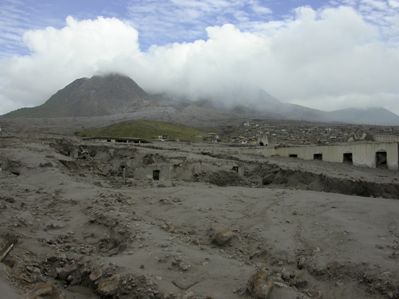 The island of Montserrat is situated in the Caribbean Sea, as part of a chain of islands called the Lesser Antilles.
On the 18th July 1995 Montserrat's old capital, Plymouth, was completely destroyed during the eruption of the Soufriere Hills volcano. Because of this strong volcanic activity, more than half of the population was forced to leave the island. Houses have been built in the North part of the island and a new capital is being constructed in Little Bay. A new airport opened in 2005.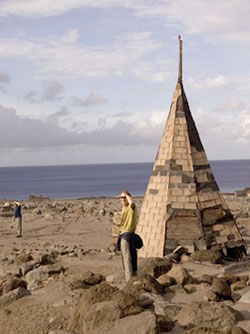 The volcanic activity continues today on a much reduced scale, but the South part of the island remains under an exclusion zone. Visits to this enclosure are only allowed during daytime. However, Plymouth is still closed to visitors and is only accessible by sea.
Among the many losses in Plymouth was the headquarters of Montserrat National Trust, as well the Agriculture Station with its botanic garden. The Montserrat National Trust was later re-established in Olveston and a new Botanic Garden is in development on its grounds. The botanic garden displays endemic and native plants of Montserrat and supports their conservation. It will also play a key role in child and adult education and training.
Herbarium specimens under ash
During an expedition to Montserrat in 2006, a team including Royal Botanic Gardens, Kew staff was given permission to visit Plymouth. The team was searching for living plants of Xylosma serratum. This plant, from the willow family, was only known from locations that are now under the pyroclastic flow.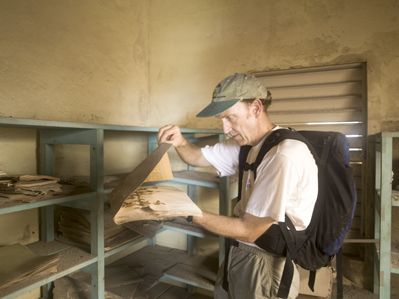 During their exploration, the team came across the building of the old Agriculture Station. Inside and under ashes, they found the remains of an herbarium. Some plant specimens were visibly damaged by hot ash, acid rain and insects but others still remained intact. The specimens found were all collected by Professor Richard Alden Howard (R.A. Howard). There were 98 specimens surviving intact, all collected between March and April 1979. Some specimens were collected in areas that can be reached today (Centre and Silver Hill) but most were from locations (Soufriere Hills) that are now burried under ash. These specimens are extremely important records to preserve, since these locations are no longer accessible. The plant specimens found in the old Agriculture Station were then taken into a safe place for preservation. They were databased, imaged and frozen to kill any bugs that could possibly be alive. They are now stored in Monserrat Botanic Garden.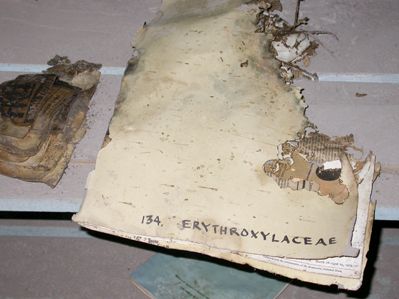 Unfortunately, there were no specimens of Xylosma serratum amongst Howard's collection. However, there was a voucher of Rondeletia buxifolia. This plant, which belongs the coffee family, is also endemic to Montserrat. This specimen collected by R.A. Howard led the team to a new discovery. On the specimen label, the collection location was recorded, a site the present team had not visited. After leaving Plymouth, the team headed to this new spot where they found a healthy population of Rondeletia buxifolia.
R.A. Howard (1917-2003)
R.A. Howard was an American botanist and plant taxonomist. He was Director of the prestigious Arnold Arboretum (AAH) between 1954 and 1977. R.A. Howard extensively collected in the Caribbean region (including Monserrat) and between 1974 and 1989 published the six volumes of the Flora of the Lesser Antilles.
© Copyright Board of Trustees of the Royal Botanic Gardens, Kew
Please use the link below to see further details on Kew's conservation activities in Montserrat
---
Homepage of the UKOTs Online Herbarium
---
Site published by
UK Overseas Territories Team, UK and Islands Programme, Conservation Science Department, Royal Botanic Gardens Kew
Please cite as
UKOTs Team (
Current Year
). UKOTs Online Herbarium - Howard Collection. Facilitated by the Royal Botanic Gardens, Kew. Hamilton, M.A. and Barrios, S. (eds.). Published on the internet at http://brahmsonline.kew.org/montserrathoward (
Date Accessed
).
For further information
Please contact Kew's
UKOTs Team
---